23° WINTER CUP – 72 MINI ROK PROVENIENTI DA 23 NAZIONI
12-02-2018 #RokCup2018 #WinterCup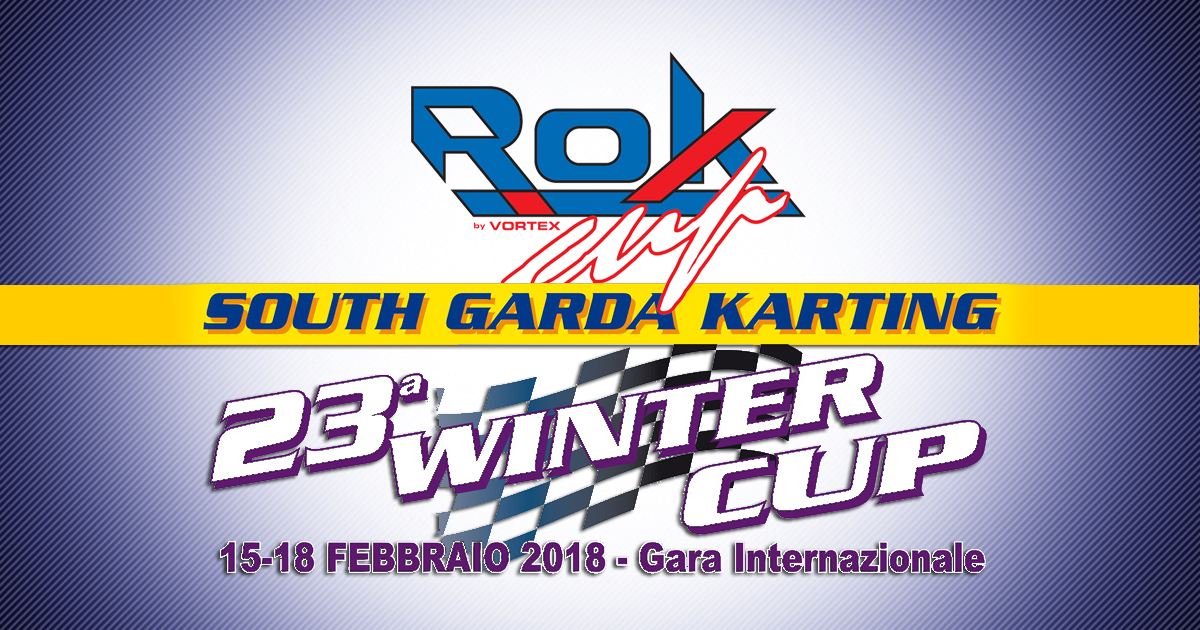 Pienone di Mini Rokker alla 23° edizione della Winter Cup. Nel prossimo fine settimana alla South Garda di Lonato ci saranno Mini Rok provenienti da ben 23 diverse nazioni e quattro continenti. Le finali saranno trasmesse live sul profilo ufficiale Facebook @SouthGardaKarting.
72 PILOTI PROVENIENTI DA 23 NAZIONI E 4 CONTINENTI.
Asia: Tailandia, Emirati Arabi Uniti, Cina
Americhe: USA, Perù, Argentina
Europa: Russia, Polonia, Romania, Germania, Regno Unito, Italia, Repubblica Ceca, Spagna, Norvegia, Belgio, Slovenia, Ungheria, Svizzera, Ucraina, Portogallo
Sud Africa
TOP DRIVER IN GARA.
La Mini Rok ci ha abituati a gare equilibrate, battaglie serrate e arrivi in volata. Basti ricordare che nella passata stagione ad imporsi fu Alfio Spina, il quale bruciò sul traguardo il russo Nikita Bedrin.
Questo fine settimana in pista ci saranno ancora Spina e Bedrin, pronti a rinnovare la memorabile bagarre dell'anno passato.
Certamente avremo moltissimi altri Rokker in grado di scrivere il loro nome nell'albo d'oro e tra i favoriti iscriviamo i nomi del polacco Karol Pasiewicz, campione Rok Italia 2017 e di Jacopo Cimenes (Campione Rok Sud).
L'attenzione sarà anche rivolta verso il neo pupillo di casa Mercedes AMG, Andrea Kimi Antonelli e Brando Badoer, figlio dell'ex driver di F1, Luca.
TORNANO LE "SUPER HEATS" PRIMA DEL GRAN FINALE.
Nella giornata conclusiva della 23° Winter Cup, si disputeranno due gare denominate "Super Heats". Queste gare, che assegnano punteggio valido per la definizione della griglia di partenza della finale, sono heats con griglia composta da 34 piloti ed un numero di giri superiore rispetto alle "normali" heats di qualifica.
Tale formula è stata testa con successo lo scorso anno e la troviamo, con piacere, anche nel 2018.
PNEUMATICI. BAR CODE IN PARCO CHIUSO.
La gestione degli pneumatici Bridgestone Mini Rok YJL (Slick) e YFD (rain), avverrà in regime di parco chiuso con il supporto di apposito bar code.
BENZINA.
La benzina utilizzata sarà Tamoil 100% ottani.
PROGRAMMA PROVVISORIO
Giorni precedenti l'evento: Prove Libere dalle ore 8:30.
Giovedì 15 febbraio: Prove Libere Ufficiali, Verifiche Sportive e Tecniche, Briefing.
Venerdì 16 febbraio: Warm-up; Prove Cronometrate, Manches.
Sabato 17 febbraio: Warm-up; Manches.
Domenica 18 febbraio: Warm-up; Manches; Super Heats; Finali.
___________________________________
23rd WINTER CUP – 72 MINI ROK DRIVERS COMING FROM 23 COUNTRIES
The 23rd Winter Cup's edition full of Mini Rokkers. Next weekend at the South Garda of Lonato there will be Mini Rok drivers from 23 different countries and four continents. Finals will be broadcast live on the official Facebook @SouthGardaKarting profile.
72 DRIVERS FROM 24 COUNTRIES AND 4 CONTINENTS.
Asia: Thailand, UEA, China
America: USA, Perù, Argentina
Europe: Russia, Poland, Romania, Germany, UK, Italy, Czech Republic, Spain, Norway, Belgium, Slovenia, Hungary, Switzerland, Ukraine, Portugal
South Africa
TOP DRIVERS AT THE START.
The Mini Rok category usually offers balanced competitions, hard fights and final sprints. Just to remember that in the past season winner was Alfio Spina, who took the Russian Nikita Bedrin at the finishing line.
This weekend we will still have Spina e Bedrin on track, ready to renew the memorable fight of last year. For sure we will also have many other Rokkers ready to write their name in the golden album and among the favourites we have the Polish Karol Pasiewicz, Rok Italy champion 2017 and Jacopo Cimenes (Rok South champion).
Particular attention will be also given to the new entry driver of Mercedes AMG, Andrea Kimi Antonelli and Brando Badoer, son of the ex F1 driver, Luca.
"SUPER HEATS" BEFORE THE GRAND FINAL.
In the final day of the 23rd Winter Cup, there wil be two competitions named "Super Heats". Such heats, assigning valid scores for the final starting grid, have 24 drivers at the starting grid and more laps than the usual qualifying heats.
This formula was successfully tested last year therefore we are glad to announce it also for 2018.
TIRES. BAR CODE IN THE PARC FERME'.
Bridgestone Mini Rok YJL (Slick) and YFD (rain) tire management will be in the parc fermé through a bar code system.
FUEL.
Fuel will be Tamoil 100% octanes.
PROVISIONAL SCHEDULE
Days before the event: Free Practice from 8.30am.
Thursday 15th February: Official Free Practice, Sporting and Technical Checks, Briefing.
Friday, 16th February: Warm-up; Chrono Heats, Heats.
Saturday, 17th February: Warm-up; Heats.
Sunday, 18th February: Warm-up; Heats; Super Heats; Finals
WORLDWIDE NEWS
09-01-2019
La novità più importante, e già ampiamente annunciata, riguarda l'adozione nella Junior Rok del mo...
[leggi tutto]
09-01-2019
Ad inaugurare la stagione sarà il girone della Sicilia, con la gara del 3 Febbraio a Melilli. Sempre a Febbraio, il 17...
[leggi tutto]
ARCHIVIO WORLDWIDE NEWS