2019 BEGINS WITH QUEENSLAND DOMINATION
20-02-2019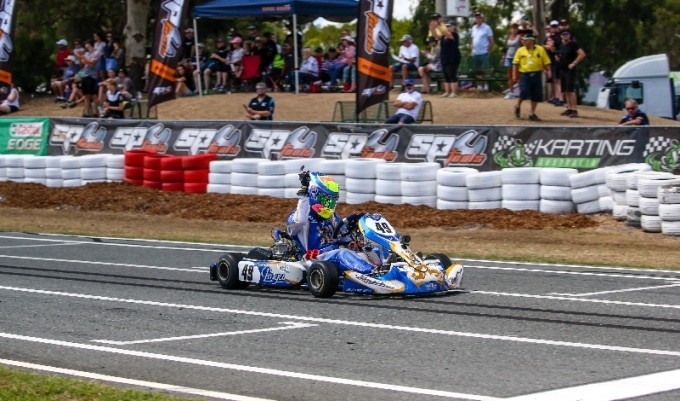 It was a Queensland whitewash across all three Votex Rok classes at Round 1 of the SP Tools Australian Kart Championship, held at Ipswich Kart Club, QLD. With the championship returning to the Ipswich circuit for the first time since 2016, local drivers became standouts, with many competitors struggling to find a setup that worked on the hot and sticky surface.
In Cadet 9 (Mini Rok) PATRICK BUCKLEY driving the #50 JC Kart drove through from third on the grid to take the lead early in the final, leading until just after the half way point, where the battle for the lead heated up between the top four karts of Buckley, #49 JAMES CITTOLIN, #81 KY BURKE and #27 BASILIO MICALE.
Heading into the final two laps, Burke held a two kart length advantage over Buckley, however could not hold on as Buckley launched an attack on the second corner of the final lap and held on to take his first Australian Kart Championship victory, emulating his father who won a round racing ICA in 1993.
The 71 kart Cadet 12 (Mini Rok) field, the largest in Australian history, provided some of the most hard-fought, close battles across the whole weekend, all in a bid to make the 40 kart final. Throughout the heats, three drivers stood out, being the reigning Australian Cadet 12 champion, HARRY ARNETT in the #40 Kosmic, CARTER MOBBS in the #60 CompKart, and JACK WELLS #25 JC Kart, sharing all the heat wins between them and setting up a thrilling grid for the final.
While carnage unfolded behind them, the top four karts managed to gain a slight break from the rest of the field, with JESSE LACEY not letting the three others have all the glory. In the end Lacey managed to pass Wells on the final lap to pick up the final spot on the podium, while Mobbs and Arnett crossed the line side by side, with Mobbs taking victory by only 0.06 of a second.
After missing out on qualifying on pole position by 0.03 of a second, LUKE PINK In the #46 Praga then proceeded to dominate the rest of the weekend in KA2 (Junior DVS), winning all heats and dominating the final, crossing the line 4.5 seconds clear of Rush Performance #7 Exprit pilot CHRISTIAN MANSELL, with the #20 DR Kart driver RUEBEN GOODALL rounding out the podium.
The next round of the SP Tools Australian Kart Championship will be competed over the weekend of the 29th-3st of March at the Cameron Park Race Circuit in Newcastle, New South Wales.
· To View All Results from Round 1, click HERE
· To View Championship Points, click HERE
WORLDWIDE NEWS
21-03-2019
Il primo appuntamento ha visto il successo dell'esperto, e veloce, Ianiello, ma a brillare sono stati anche alcuni Rook...
[read all]
18-03-2019
Come previsto i Rokker si sono esaltati sul tracciato leccese e nella Mini Rok è stato Matteo Bagnardi ad incamerare p...
[read all]
WORLDWIDE NEWS ARCHIVE