EXTON AND ROONEY TO JOIN MORRIS AND PARKINSON AT ROK CUP EVE
22-07-2016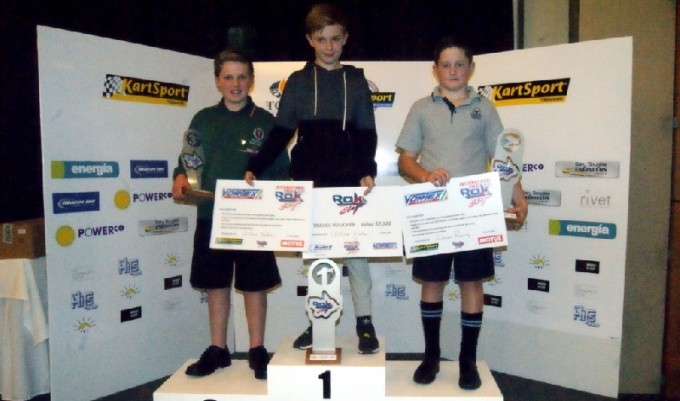 Inaugural ROK Cup New Zealand Vortex Mini ROK class winner William Exton and runner-up Jackson Rooney are set to join New Zealand champions Breanna Morris (2016) and Joshua Parkinson (2015) on a four-strong Kiwi squad at this year's ROK Cup International meeting in Italy in October.
Morris guaranteed her spot when she won the class title at this year's Giltrap Group-backed KartSport New Zealand Sprint Championships meeting in Hamilton at Easter.
Picton driver Exton, and Rooney, from Palmerston North, earned theirs when they finished first and second respectively in the overall series' points standings in the class at the final round of the 2016 ROK Cup New Zealand series (held in conjunction with the Todd Energy KartSport NZ National Schools' Championships meeting at Waitara) in Taranaki over the weekend.
The ROK Cup International is one of the biggest manufacturer-backed events on the international karting calendar and this year it is expected to attract over 360 karters from more than 20 countries around the globe to the Lonato kart track in Italy from the 19th to the 22nd of October.
New Zealand has been represented at the past two ROK Cup International Finals; by Ryan Wood from Wellington in 2014 and Billy Frazer from Pukekohe in 2015.
This year there will be four Kiwis competing at the event, Morris, Exton and Rooney in the Vortex Mini ROK class (for 9-13 yr olds), and Auckland's Joshua Parkinson (the 2015 NZ Vortex Mini ROK class champion) in Junior ROK.
Vortex is a leading manufacturer of kart engines in Italy, and ROK Cup New Zealand series' promoter Maurice Frost of New Zealand Vortex engine importer Supreme Engines says that the experience the young Kiwi foursome will get at the ROK Cup International event will only be good for them, and the sport here when they come home.
As part of their prize packs the four Kiwis get accommodation and lunches while they are there for the event, free event entry, the use of a new kart and engine, free race tyres and paddock space including tent. Other trip costs will also be subsidised by a fund set up by KartSport New Zealand and the official oil supplier for the Vortex Mini ROK engine classes, Motul.
2016 ROK Cup New Zealand Vortex Mini ROK class winner William Exton also receives a $2500 travel voucher bonus presented by ROK Cup New Zealand promoter Supreme Engines.
The series' winner of the Cadet ROK class (for 6-11 yr olds) Ryan Bell from the Bay of Plenty, also won a substantial prize, a brand new Vortex engine worth $3000.

2016 ROK Cup New Zealand
RESULTS
Vortex Mini ROK
Points after Rnd 4 of 4
1. William Exton 194 points
2. Jackson Rooney 190
3. Thomas Boniface 183
4. Ryan Crombie 174
5. Louis Redshaw 168
6. Josh Richmond 165
Cadet ROK
Points after Rnd 4 of 4
1. Ryan Bell 188 points
2. Mason Potter 186
3. Logan Manson 184
4. Louis Sharp 183
5. Bo Hill 181
6. Liam Sceats 132
CAPTIONS
Inaugural ROK Cup of New Zealand Vortex Mini ROK class winner William Exton (#SI) and title rival Jackson Rooney (#30) in action and sharing the final series' podium with third placed Thomas Boniface (left). And Cadet ROK class series' winner Ryan Bell in action and sharing the series podium with Logan Manson (left) and Mason Potter (right). Photo credit (action shots) Fast Company/Vicky Jack. Photo credit (podiums) Fast Company/Campbell Jamieson
2016 ROK Cup New Zealand
Rnd 1: Sulphur City Sprint Rotorua Feb 13-14
Rnd 2: NZ Sprint Champs Hamilton Mar 25-27
Rnd 3 Option 1: WPKA Championships Taranaki June 04-05
Rnd 3 Option 2: Sunbelt Series Nelson/Blenheim June 04-05
Rnd 4 NZ Schools Champs Taranaki Jul 16-17
WORLDWIDE NEWS
19-10-2020
Początkowo deszczowe, później słoneczne a na końcu szczęśliwe zawody zakończyliśmy w wielkim stylu. Jan Przyro...
[read all]
12-10-2020
Ricordiamo a tutti che i Rokker di Seniore Junior si contenderanno il titolo di Campione Italiano ACI2020...
[read all]
WORLDWIDE NEWS ARCHIVE