Round 4 Jacksonville: Race Information
04-08-2015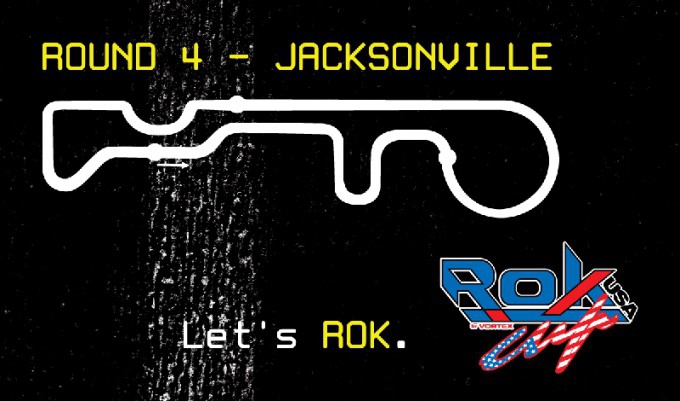 Round 4 of the ROK Cup USA Series is just over a week away and in preparation for the event, listed below is some important information for teams and drivers.
Track Information:
103rd Street track (North Florida Kart Club)
10244 103rd St.
Jacksonville, FL 32210
Practice /Track Layout:
The track will be open to the public for practice the week of the race (Monday, August 10 - Thursday, August 13).

ROK Cup USA will officially take over the track for official practice on Friday, August 14.

We will be running the chicane layout (track map below, click to download).

Race timetable for Fri-Sun is posted below, click to download.
Pit Spots:
Pit spot parking will be on a first come - first serve basis. Teams with larger trucks or rigs can contact us at 561-578-5641 to confirm space needed.

If you need to park trailers / RVs overnight at the track before Thursday night, please contact us to confirm pit space details.

Pit spot price is $40 per spot (20x30'), payment will be collected upon arrival.

Campers/RVs must be parked outside of main pit area, cost is $40 per spot (20x30'). Contact us 561-578-5641 for more details and to reserve camper spots.
Friday Practice / Pit Passes:
Pre-registration and on-site registration includes driver and mechanic entry for race weekend (Saturday / Sunday).

Friday practice is $50 for drivers.

Friday pit pass for mechanics is $10.

Pit passes for non-drivers will be required from Friday August 14, prices are:

$20 3-day pass

$15 2-day pass

Passes can be purchased at the registration booth.
Parc Ferme:
Parc Ferme will be in place for FUEL ONLY for the following classes:

All drivers from these classes MUST purchase OIL and FUEL at the track from ROK Cup USA, and it must remain inside of Parc Ferme for the duration of the event.
If you have any other questions regarding the race weekend, contact us at 561-578-5641 or email us at usa@rokcup.com. We look forward to seeing you all there. Let's ROK!
ATTACHMENTS:
Jacksonville Track Map
Round 4 - Race Schedule
WORLDWIDE NEWS
24-11-2020
Antonino Di Lorenzo batte la maltese Kilie Camilleri nella corsa al titolo della Senior, in virtù di un risultato util...
[read all]
24-11-2020
Marco Lalinga è stato imprendibile in Senior Rok, ha vinto due finali e tre prefinali, lasciando al coriaceo Marco Nan...
[read all]
WORLDWIDE NEWS ARCHIVE