Three out of three for Betea and Cosma-Cristofor at Prejmer
03-05-2022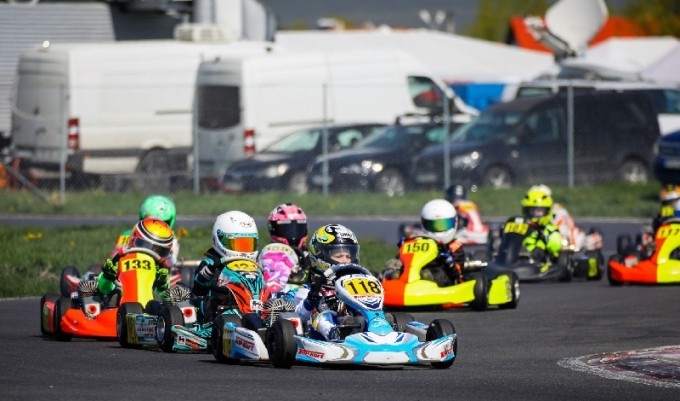 The second round of the ROK Cup Romania season proposed exciting disputes in all categories, the standout performers of this weekend being Darren Betea (Micro) and Bogdan Cosma-Cristofor (Mini).
With 17 competitors on the grid, the Micro ROK category was under the spell of the flawless evolution of Darren Betea (BRT), who prevailed in all three heats. Antonia Vidican (Vidi Top Sport) placed second in both races on Sunday, whilst Robert Pulbere (Formula K RO) was on the podium of the first two races. Victor Gorun (Prejmer Circuit) finished third in Saturday's final, but his decisive day's course was affected by an issue before the start of the second heat. Adam Pîrvu (Drinago Racing) came third in the last race of the weekend. In the general classification, Betea has an advance of 17 points compared to Vidican and 48 points separate him from Pulbere.

Bogdan Cosma-Cristofor (Gulstar Racing) continued at Prejmer the streak that he initiated in Bucharest, managing to break away from the pack of 16 pursuers in each heat. However, the races were particularly lively due to the duel between David Nicolaie (Real Racing) and Cristian Velciu (Gulstar Racing). The three drivers monopolized the podiums and head the general classification, Nicolaie having a deficit of 42 points compared to the leader Cosma-Cristofor, whilst Velciu is 45 points adrift. Sonia Crivoiruc (Prejmer Circuit) won the Mini ROK Ladies trophy and currently stands in fifth place in the general classification, 11 points behind Patrick Săliștean (Autosally).

If in Bucharest the closest rival of Luca Paul Viișoreanu (Real Racing) was David Cosma-Cristofor (Gulstar Racing), this time David Drăgan (Gulstar Racing) was his biggest threat. In both weekends, however, Viișoreanu was defeated just once, managing to repeat his victories on Sundays. Thus, he is 27 points away from David Cosma-Cristofor, but we expect to have the same extremely tight races in the Junior ROK category from now onwards.

The next stage of the championship will take place on the Speed ​​Park circuit in Bacău, on the weekend of June 3-5.
WORLDWIDE NEWS
10-08-2022
La conduzione, come sempre, è affidata a Mara Sangiorgio, giornalista di Sky Sport F1 e grande appassionata di kart, a...
[read all]
09-08-2022
Mini ROK Piccoli protagonisti e grande spettacolo nella Mini ROK, la categoria con motori uguali per tutti (forniti da Vorte...
[read all]
WORLDWIDE NEWS ARCHIVE