MINI ROK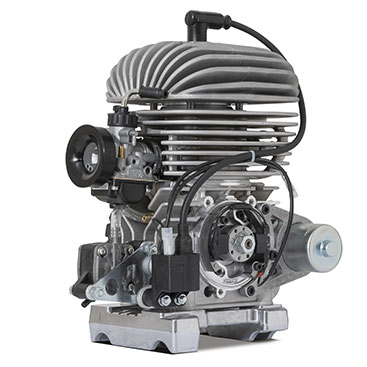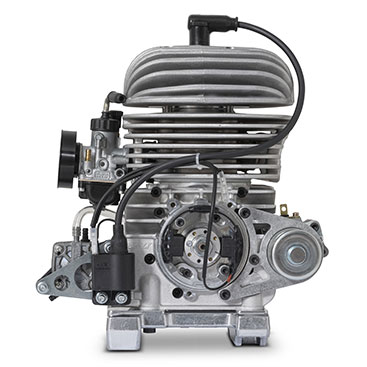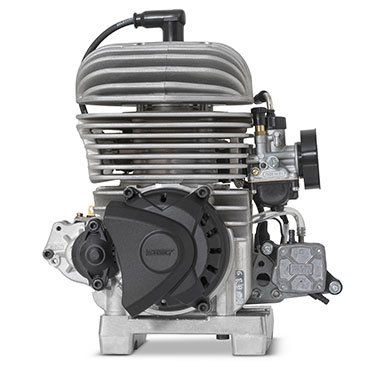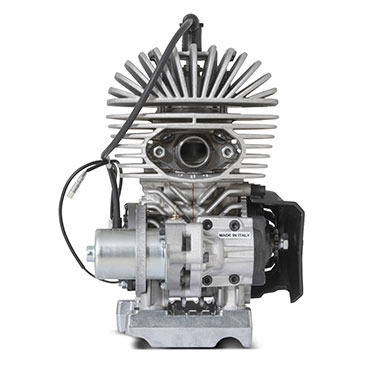 SPECIFICATIONS
Single-cylinder 2 stroke engine
Displacement 60 cc
Piston Port
Air-cooled system
Integrated electrical starter
Centrifugal dry-clutch
Mixture-lubricated
Cast iron made cylinder CNC worked
2 transfer ducts intake
Oval exhaust without rib
Radial bearing C4
Bore and stroke 42x43mm
10 HP at 11.000 Rpm
Max torque 6.5 Nm at 9.000 Rpm
Max 15.500 Rpm
Selettra analogic ignition
Dell'Orto PHBG Ø 18mm carburettor
Vortex intake silencer
Dell'Orto Fuel pump
Mini Rok exhaust with integrated exhaust silencer
DESCRIPTION
Rok MINI is dedicated to the very young drivers and has been shown to grow small karting talents. Thanks to some of its key features it is safe and easy to use, so that young drivers can become familiar with the kart without tension.
The engine has the following features: single-cylinder 2 stroke engine, displacement 60cc, piston port. Air-cooled, equipped with centrifugal dryclutch and integrated electrical starter.
The engine comes in a complete kit with Dell'Orto PHBG Ø 18mm carburettor, Dell'Orto fuel pump, Vortex intake silencer and exhaust with integrated exhaust silencer and starter.
Rok MINI engine is aimed at the younger generation and for more than a decade has spread worldwide, therefore more and more federations have chosen it as national entry level category.
WORLDWIDE NEWS
21-09-2023
Anche in occasione della puntata dedicata al gran finale di stagione della ROK Cup Italia, trasmessa in prima visione sulla n...
[read all]
14-09-2023
Grande successo per il finale di stagione della ROK Cup Italia sul circuito Cremona Karting, con numerosi partecipanti e acce...
[read all]
WORLDWIDE NEWS ARCHIVE