ROK TALK SHOW: RECORD WITH 61,000 AUDIENCE MEMBERS FOR THE ROK CUP SUPERFINAL
03-11-2022 #RokSuperfinal2022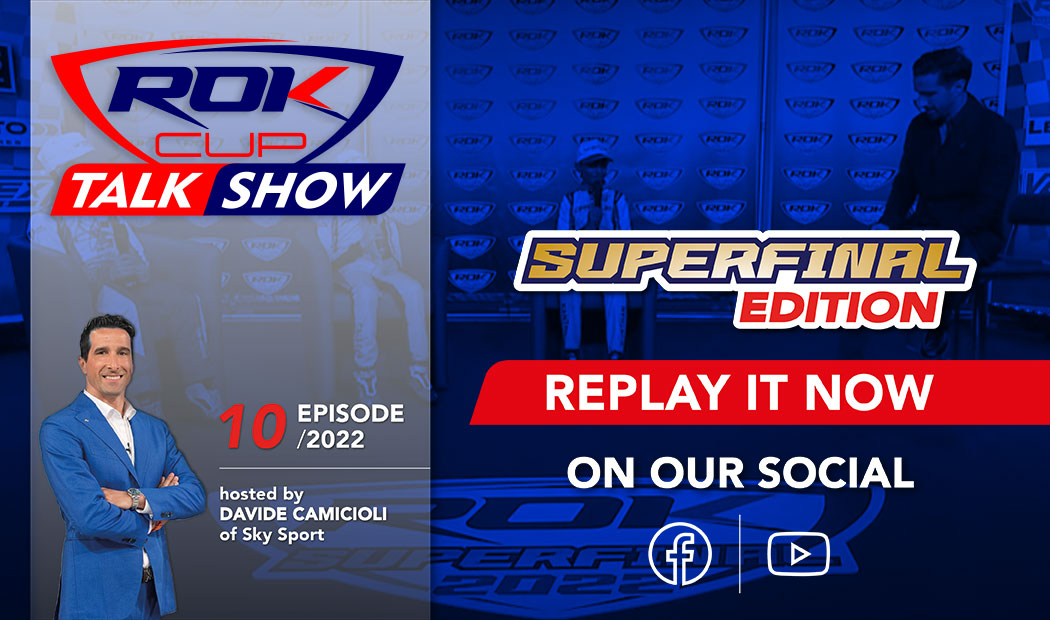 An extraordinary audience engagement for the ROK Talk Show, the "after-race" standing appointment of the single-brand ROK Cup by Vortex, in a special format for the 20th edition of the ROK Cup Superfinal. Last Thursday, 27th October at 9.00 pm, the tenth episode of this year was broadcasted on our Facebook page, with almost 61,000 audience members (data survey on 28th October 2022).
With the charismatic hosting of Davide Camicioli, journalist of Sky Sport F1 Italia, lots of guests were present in the studio, set up for the occasion directly at the South Garda Karting in Lonato (Italy), venue of the Superfinal 2022.
In the MINI ROK class, the winner Vivek Kanthan tells the exciting last lap and final sprint with his fellow rival William Calleja. Filippo Parmeggiani, on the other hand, describes his success over Patrik Fraboni and David Cosma Cristofor in the Junior ROK. Great challenge between David Locatelli and Jakub Rajski in the final of the Senior ROK, with the Italian declaring: «I felt his pressure a lot, I made some mistakes, but we managed to keep the gap that allowed me to lead the race». Tino Donadei and Gianluca Todeschini of the Expert ROK Plus are ready to fight for the revenge at the ROK Cup Festival in Franciacorta. Alex Machado and Daniele Federici, second and third in the Super ROK respectively, are also ready to improve and aim at the victory of the 2023 Superfinal. Finally, Nicola Rossini shares his first sensations as a champion of the Shifter ROK: «I am very excited, I'm just realizing I won!».
For those who missed it, the ROK Talk Show is available online on our social media:
WORLDWIDE NEWS
27-03-2023
Ancora una volta grande partecipazione da parte del pubblico per il ROK Talk Show, l'appuntamento fisso del post-gara d...
[read all]
24-03-2023
INFO GARA Il round numero 2 della Rok Cup Italia 2023 si svolgerà domenica 16 aprile presso il circuito Cremona Kartin...
[read all]
WORLDWIDE NEWS ARCHIVE