ROK TALK SHOW: SPECIAL EPISODE WITH THE ROK CUP SUPERFINAL
27-10-2022 #RokSuperfinal2022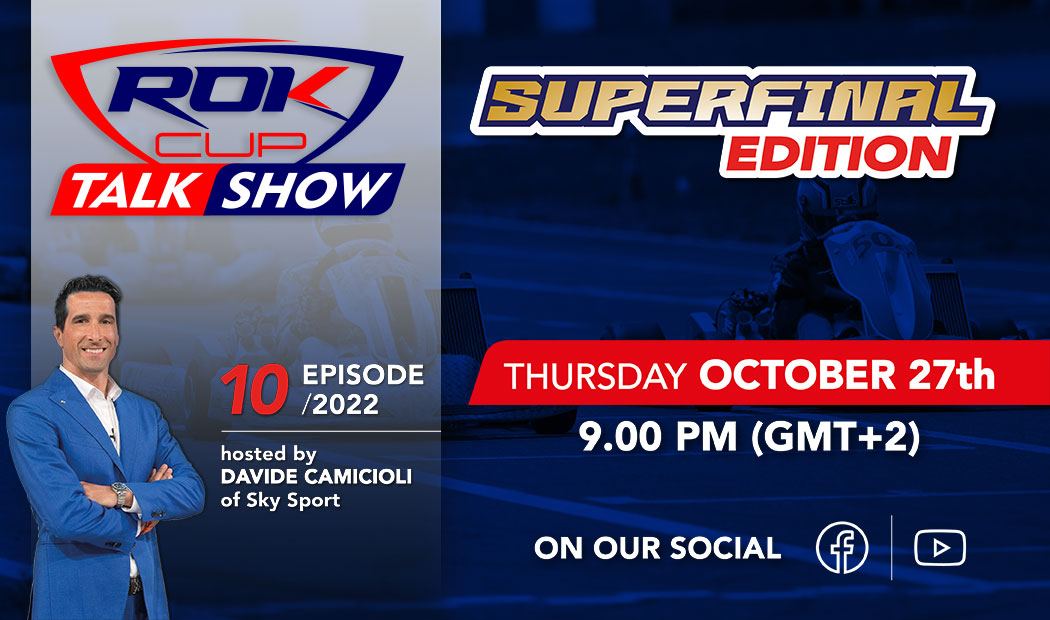 An unmissable appointment with the ROK Talk Show, the traditional web program dedicated to the "post-race" of the single-brand by Vortex, in a special format for the 20th edition of the ROK Cup Superfinal, staged on October 19th-22nd at South Garda Karting in Lonato (Italy).
Davide Camicioli, journalist of Sky Sport F1 Italia, will lead the ROK Talk Show, welcoming lots of guests in the studio – properly set up on the track - immediately after the awards ceremony of the finals. Starting with Vivek Kanthan, William Calleja and Bogdan Cosma Cristofor, the Top 3 of the Mini ROK class, followed by Filippo Parmeggiani, Patrik Fraboni and David Cosma Cristofor, protagonists of an exciting fight in the Junior ROK category. David Locatelli, Jakub Rajski and Luca Bettoni of the Senior ROK are present too, as well as Tino Donadei and Gianluca Todeschini of the Expert ROK Plus. Alex Machado and Daniele Federici reveal in detail their weekend in the Super ROK, finally Nicola Rossini, Cody Maynes-Rutty and Andrea Zemin tell the stories of the Shifter ROK.
The appointment with the tenth episode of the 2022 season of the ROK Talk Show on first release is on Thursday 27th October at 21.00 on Facebook (register here for the event for free to receive a notice) and, starting from 28th October, on demand on our social channels Facebook, Instagram and YouTube, as well as on the ROK Cup website. Don't miss it!
For those who have not yet seen the previous episodes, the ROK Talk Show is available online on our social platforms:
WORLDWIDE NEWS
01-06-2023
Giro di boa per la ROK Cup Italia con il quarto appuntamento della stagione 2023, andato in scena al 7 Laghi Kart Internation...
[read all]
01-06-2023
Torna il ROK Talk Show, l'immancabile programma web dei dopo gara del monomarca by Vortex. Protagonista, questa volta, ...
[read all]
WORLDWIDE NEWS ARCHIVE